The Walking Dead - Gif Challenge [notwhatyoucallnormal]
First day of the apocalypse. How do you react?

Killing your first Walker. Reaction? 

Meeting the prison group. Your reaction.

Their reaction.

Rick offers you a weapon of your choice. What is it?

Silence pistol or a revolver
You overhear Andrea talking about if the group can trust you. What do you do?

"Erm, da fuk?" 
Walkers get into the prison. Your reaction.

Daryl uses his crossbow to save you from a Walker. How do you react?

You go on a supplies run with Glenn and have a chat with him. What do you talk about?


The group…
You become suspicious that a member of the group is stealing supplies. Who do you suspect and how do you react?


Probably Merle. I'd talk to Rick about it but i wouldn't tell him who I suspected. 
The group becomes aware of the missing supplies and Carl accuses you. How do you react?

Rick forces you to leave the prison but one member runs after you. Who is it?


Of course
A few weeks pass. You and your partner run into Maggie and Glenn in the forest who come up with a plan to get you back into the prison. What is your reaction?

You are now secretly living in the prison but Carol finds you. How do you react?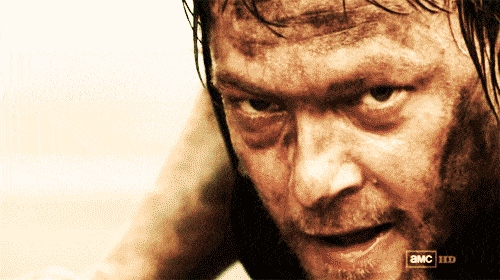 How does Carol react?

You hear a commotion down the hall. Someone left the gate open and walkers are about to get into the prison groups cell block. How do you react?


Kill all 'dem muthafookas! 
You get bitten. What do you do? Who is by your side? Your last words? 


Shoot myself.
Maggie, Rick, Carol, Hershel, Carl and Daryl. 

"Take care of yourself"
(I made this! Let me know if any of you guys do one. Would love to see what you come up with)